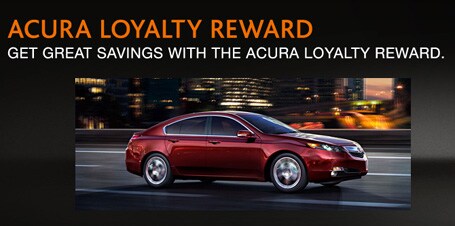 The Acura Loyalty Reward provides current Acura owners/lessees
$1,500 towards Down Payment or Cap Cost Reduction
, with the lease or purchase of a 2013 TL through Acura Financial Services (AFS).
Contact Richard, Brad or Corbin at 888-513-4016 for details.
---
The Acura Loyalty Reward offer is available to eligible current owners of a 2003 or newer Acura Vehicle. Financing must be through Acura Financial Services (AFS) for a minimum of 24 months or more of regularly scheduled payments. Offer is not valid if AFS credit criteria are not met. Zero Due at signing lease offers are NOT eligible. Members of the same household are eligible, with proof of required documentation. Proof of ownership, with address, of Acura vehicle must be provided in one of the following forms: Current vehicle registration / Current vehicle billing statement / Current vehicle proof of valid auto insurance / Current vehicle title.

2013 TL must be new and not previously reported sold. Vehicles must be sold, delivered, and reported from Dealer's stock by program end date of 4/30/13. Fleet Sales are NOT eligible. Trade-in of current vehicle is not required.